Business Setup in Dubai Media City (DMC)
Dubai Media City (DMC) Free Zone
Dubai Media City (DMC) is a famous free zone located in Dubai, United Arab Emirates (UAE) specially focused on media of all types and forms. Established in the year 2001, it is one of the most significant hubs for the media and communication industries in the region. Dubai Media City provides a conducive environment for media organizations, advertising agencies, production companies, and other related businesses to operate and grow.
It is managed by Dubai Holding and Tecom Investments. 11 free zones, often known as "business communities," are managed by TECOM free zone authority. Dubai Media City is one of them. Because of its integrated work environment and relatively flexible ownership patterns, Dubai Media City free zone continues to attract hundreds of corporate and individual investors. Starting a business in Dubai Media City can be a wise decision, particularly if you specialize in media, advertising, or communication.
Business Formation in Dubai Media City (DMC)
In order to position Dubai as the region's leading media hub, Dubai Media City (DMC) was established in January 2001 and currently it hosts a spectrum of establishments including news agencies, publishing houses, internet media, advertising firms, production facilities, and broadcast centers.
Media-related businesses can operate globally from Dubai because to the modern infrastructure and friendly environment it offers. It is one of the most recognized places in Dubai for business formation. In Dubai Media City Free zone, there are approximately twenty business buildings where one can find a suitable office for rent. DMC is a media community of over 20,000 people that work in over 2,000 regional and worldwide media companies that are always pushing the boundaries of innovation.
Starting a business in Dubai Media City offers you access to a thriving media ecosystem, networking opportunities, and a business-friendly environment. However, it's essential to work closely with business setup consultants who are familiar with the local regulations and procedures to ensure a smooth and successful setup process. Socprollect is a leading business setup consultant specializing in business formation in Dubai Media City Freezone.
Benefits of Business Setup in DMC
. Capital and profit repatriation in 100%.
. 100% ownership of the business.
. No personal tax and no/low company tax.
. Free of tax customs charges.
. No personal tax and no/low company tax.
. There are no import duties due.
. Ideal for a media company is a clustered work environment.
. The easy company formation procedure.
. Licensing of Dubai Media City companies.
Activities permitted in Dubai Media City (DMC)
To meet the varied demands of the media and communication industry, Dubai Media City provides a wide range of business activities. Dubai Media City offers the perfect environment for your company to develop and grow.
. Media and marketing consulting services
. Services in the media and marketing
. Event Management
. Advertising & Communication
. Modern media
. Media Association (Non-Profit) and others
Types of companies in Dubai Media City
Foreign investors interested in opening companies in the Dubai Media City Free Zone may establish the following types of companies:
. Free-zone companies
. Branch offices of foreign and local companies.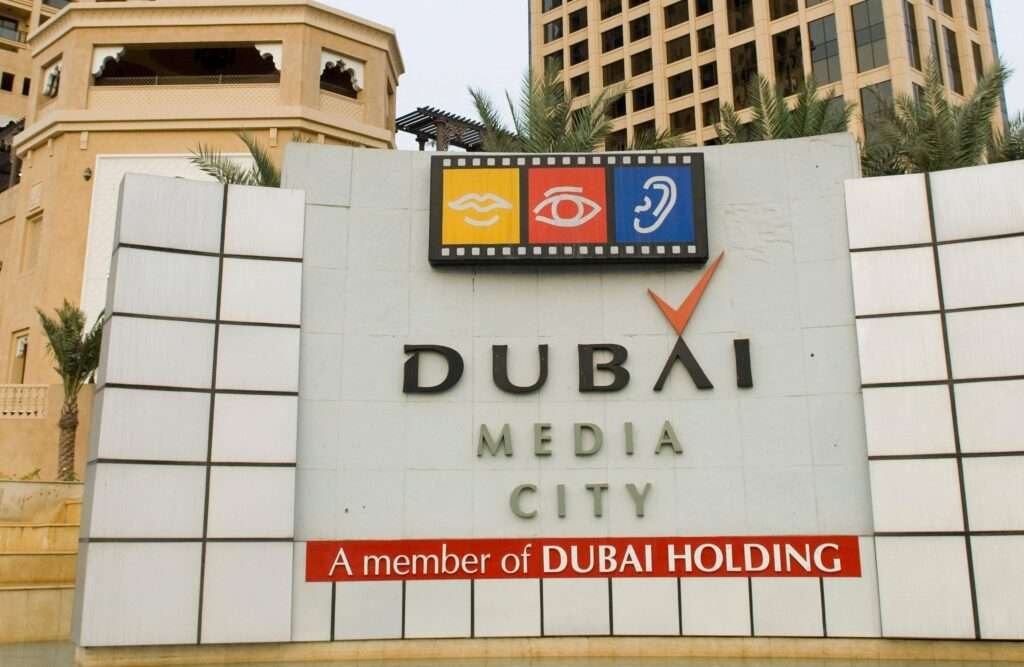 Steps to setup a business in Dubai Media City
Formal application submission

Fill out the application form provided by Dubai Media City's free zone authorities.

Submission of all relevant paperwork by DMC free zone officials

Gather all the required documents for your business setup.

E-agreement issuing

After the submission of your application and documents, you will receive an e-agreement from Dubai Media City.

Sign the e-contract and distribute the capital letter

Review the e-agreement carefully and sign it digitally as per the provided instructions. This indicates your acceptance of the terms.

E-license issuing

Once the e-agreement is signed and the capital letter is provided, Dubai Media City will process your application further. If everything is in order, they will issue an e-license for your business.
In order to start your business in the free zone, the following documents need to be submitted:
Application form
Business Plan
Proof of share capital of AED 50,000
NOC (if applicable)
Emirates ID (applicable only for UAE residents)
Visa Copy
Passport Copy
Passport Photo
However, it's important to remember that the business setup process can involve additional procedures and requirements depending on factors such as the type of business activity, the legal structure you select, and any specific regulations that may apply at the time of your setup.
Types of Permissible Legal Entities in Dubai Media City
In this Dubai Free Zone, an individual or corporation can register their business as one of the following legal entities:
Establishment of a free zone (FZE or FZ-LLC)
A business having just one shareholder
Free Zone Company (FZC/FZCO)
A business with two to five shareholders
A foreign company's branch
For a foreign nationality application
A local company's branch
For a UAE registered corporate person to apply for company setup
Freelancer
For a person wishing to dispense a certain service, falling under a freelance permit, under one's name.
DMC COMPANY LIQUIDATION
Any company that has registered with Dubai Media City must contact the Authority to complete the de-registration process if they want to terminate their license and deregister the business.
If you don't renew your license and don't cancel it either, it stops working. The corporate liquidation will subsequently be started by the Dubai Media Authority on its own. If you paid the authority any refundable deposits, such refunds will be given when the company is deregistered.
Company registration in Dubai Media City
To Setup your business in Dubai Media City Freezone, it's highly recommended to work closely with a business consultant who is familiar with Dubai's free zones company formation and can guide you through each step, ensuring compliance and a successful setup for your business.
Over the years, Dubai Media City has become a thriving hub for media and communication companies, offering innovative infrastructure, a business-friendly environment, and various incentives to attract businesses in the sector. It has played a significant role in promoting Dubai as a global media destination and has contributed to the growth of the media industry in the region.