Business Setup in Dubai Silicon Oasis
Business Setup in Dubai Silicon Oasis
Dubai Silicon Oasis DSO Is a Government owned Freezone and technological park managed by Dubai Silicon Oasis Authority. With its outstanding infrastructure, urban master-planned community, state-of-the-art facilities, and in-house business services, the Dubai Silicon Oasis supports modern technology-based businesses. Dubai Silicon Oasis is the UAE's only technological park that combines a working and residential community.
It was created with the goal of developing and supporting Dubai's and the entire UAE's technological and innovative sector development. DSO provides a variety of facilities, services, and advantages that create a welcoming atmosphere for IT businesses, startups, and business owners. Over 4,000 companies, including multinational corporations, start-ups, and research and development centers. It was founded in 2004 by the Dubai government. To setup your business in Dubai Silicon Oasis feel free to contact us today.
Dubai Silicon Oasis company setup cost
For the purpose of creating an effective business plan, it is essential to understand what the setup costs for the Dubai Silicon Oasis company are right away. Foreign investors should be aware that starting a business in Dubai's Silicon Oasis costs almost the same as doing so in one of Dubai's other free zones. However, it is good to have a well-planned budget and to negotiate prices if necessary. You can find land, office space, and warehouses for reasonable prices.
Dubai Silicon Oasis is recognized as a top free zone and a vibrant business and residential community in Dubai. As an innovative technological hub, it includes companies with a focus on IT, internet services, business, industry, and research & development.
Office spaces start from 7 sq meters. The cost of a license is a minimum of AED 12,000.
Office Space at Headquarters – DSO charges an annual fee of AED 1,550.00 per square meter for their offices. The minimum area necessary for a General Trading License is 100 square meters.
Investors can also take Light Industrial Units, which consist of a warehouse and office space, for AED 830 per square meter per year. The available area is 360 square meters (200 square meters w/h + 160 square meters of office space).
fee may vary depending on government revision and other factors.
Additionally, you might first register for a trading license and then choose an inexpensive location for your business. You may rent a workplace for about AED 25,000 and pay about AED 12,000 for the license. As a result, the total cost for beginning up the Dubai Silicon Oasis firm is between AED 20,000 and 30,000.
Costs for setting up a Dubai Silicon Oasis company will also vary based on the package you select for your company formation. More information about Dubai Silicon Oasis company setup costs can be obtained from our team of business consultants. You can take advantage of our customized packages and deals.
DSO Resident visas
Based on the size of the office, companies in the Dubai Silicon Oasis Free Zone are qualified for a specific number of resident visas; any 9 square meters qualifies a firm for one resident visa. For instance, you get 5 visa slots if your place of business is 50 square meters.
DSO FACILITIES
Offices
Warehousing and Manufacturing
Land for development
Conference facilities
Light industrial units
Student Accommodation
Virtual and flexi desks
DSO Advantages
100% foreign ownership
100% repatriation of capital
With no income tax
No taxes on exports or imports
Upgraded IT infrastructure
Quick, easy, and affordable setup
Numerous office and storage facilities
More IT and technology-related business activities
Access to an experienced group of technical and engineering professionals
There are no limitations on recruiting foreign workers
No limitations on capital nationality
Process of Business set up in Dubai Silicon Oasis free zone
choosing the appropriate activities and picking of an office facility is the primary step in Dubai Silicon Oasis company development. For a complete understanding of the activities and services, it is best to review all.
Once you have chosen the office, the process goes as follows:
providing the company name
Pre-approval of the business
Signing of the lease agreement
Making the payment
Receiving the license
Company types in Dubai Silicon Oasis
Free zone Establishment (FZE) : An FZE is a legal entity incorporated/registered by a single shareholder. The shareholder may be an individual or a legal entity such as a corporation
Free zone Company (FZCO) : An FZCO (Free Zone corporation) is essentially a legal entity with numerous shareholders or a partnership if there are multiple owners of the business. The shareholders in this sort of business creation might be either people (a person) or organizations (a firm).
Branch : In the Dubai Silicon Oasis, any established company, whether based in the UAE or abroad, allowed to open a branch. It must be the same as the activity that the parent company does for the activity that the branch proposes to conduct in the Dubai Silicon Oasis.
DED registered companies : Companies who have an existing business relationship with the Dubai Economic Department (DED) and want to conduct business in The Administrative Zone in the DSO (i.e., in non-DSOA property) should submit an application for a Business Operation Permit.
Operating licenses available in Dubai Silicon Oasis
Service Licence – This permits the registered organization to only provide specific.
Trade Licence – As indicated in the license, this enables the registered business to engage in businesses related to the import, export, and distribution of products.
Industrial License – This registered entity is now free to import raw materials, produce, process, assemble, package, and export the final goods.
Special License available in Dubai Silicon Oasis

Business Operation Permit – This is a special licence allowing businesses utilizing a Dubai Economic Department (DED) license to operate in the Administrative Zone of DSOA (areas had by private developers).
Entrepreneurial Business License – An EBL license helps accelerate the growth of young entrepreneurs and businesses through an array of services and resources.
Business Activities Available at DSO
The Department of Economic Development's list of commercial activities is followed by Dubai Silicon Oasis Free Zone.
Consultancy
Logistics
Manufacturing
Transport
Aviation
Health
Storage
Hospitality
Marketing
Trading
Waste Management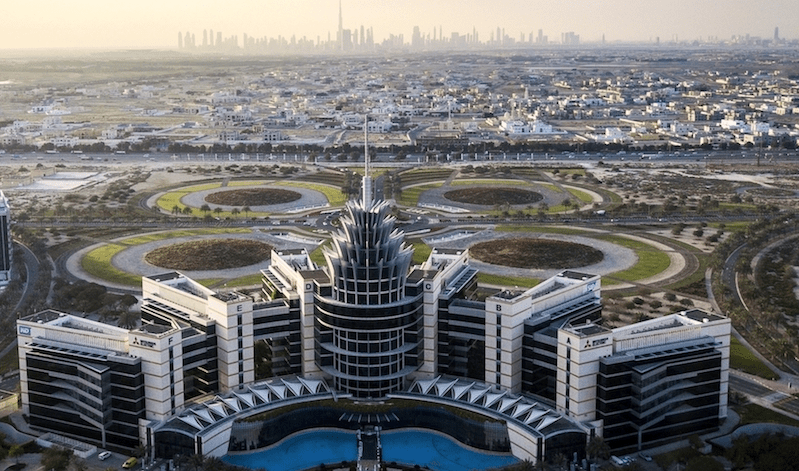 WHY CHOOSE DUBAI SILICON OASIS (DSO)
0% Personal and corporate Income Tax
100% business ownership and capital repatriation.
Geographical location
Live and work in one vibrant community.
business centre that is thriving.
Quick efficient setup process
The Dubai Silicon Oasis (DSO) is a great option for businesses looking for affordable office space in Dubai. The availability of affordably priced accommodation in the area improves how convenient it is to hire new recruits. Businesses also benefit from having access to a student pool for a variety of company projects due to Academic City's close vicinity. A large number of highly qualified professionals is further ensured by the Techno Hub's presence in the area.
Contact us for further information on the Dubai Silicon Oasis business license process as well as license costs. If you wish to register a business in Dubai Silicon Oasis, you may also contact one of our Dubai agents to request their assistance.
Although establishing a business in the Dubai Silicon Oasis Free Zone is a wise choice, there is also the more expensive but alternative option of establishing a business in the Dubai Multi Commodities Centre.